Free Naloxone (Narcan) training tonight in Coxsackie
THE NEW YORK STATE OFFICE OF ALCOHOLISM AND SUBSTANCE ABUSE SERVICES ANNOUNCES FREE NALOXONE TRAINING SESSIONS IN GREENE COUNTY
Four Free Sessions will be Offered as Part of Ongoing Naloxone Training Efforts
The New York State Office of Alcoholism and Substance Abuse Services today announced that it will conduct a series of free Naloxone training sessions to be held in Greene County. The trainings are supported by a grant from the Substance Abuse and Mental Health Services Administration. During the sessions, participants will learn how to recognize, respond to, and reverse an opioid overdose using Naloxone.
"Naloxone is an important tool in the fight against addiction, and has been instrumental in saving lives across New York State by reversing the effects of an overdose," OASAS Commissioner Arlene González-Sánchez said. "I urge anyone who is able to take advantage of these trainings to do so and learn how to administer this lifesaving medication. By ensuring more people know how to use Naloxone, we help to further protect the health of all New Yorkers and build stronger communities."
The dates, times, and locations of each training session are listed below:
January 23, 6:00pm: DM Hamilton Steamer Company #2:119 Mansion Street, Coxsackie NY 12051 (Contact Jen Warren at (518) 380-4585 to register)
February 5, 6:00pm: Ashland Town Hall: 12094 Route 23, Ashland NY 12407 (Contact Heather Younes at (518) 734-3636 to register)
February 7, 3:30pm & 6:00pm: Mountain Top Library:

6093 Main Street, Tannersville NY 12485 (Contact Maureen Garcia at (518) 589-5707 to register)
All training sessions are free and open to the public, but reservations for each event are strongly encouraged. Participants must be at least 16 years of age.
OASAS is also seeking partners for similar training events in Greene County. Communities and organizations looking to arrange additional trainings can email OpioidSTR.General@oasas.ny.gov or call (518) 485-0757.
New Yorkers struggling with an addiction, or whose loved ones are struggling, can find help and hope by calling the state's toll-free, 24-hour, 7-day-a-week HOPEline at 1-877-8-HOPENY (1-877-846-7369) or by texting HOPENY (Short Code 467369).
Available addiction treatment including crisis/detox, inpatient, community residence, or outpatient care can be found using the NYS OASAS Treatment Availability Dashboard at FindAddictionTreatment.ny.gov or through the NYS OASAS website.
Visit CombatAddiction.ny.gov to learn more about the warning signs of addiction, review information on how to get help, and access resources on how to facilitate conversations with loved ones and communities about addiction. For tools to use in talking to a young person about preventing alcohol or drug use, visit the State's Talk2Prevent website.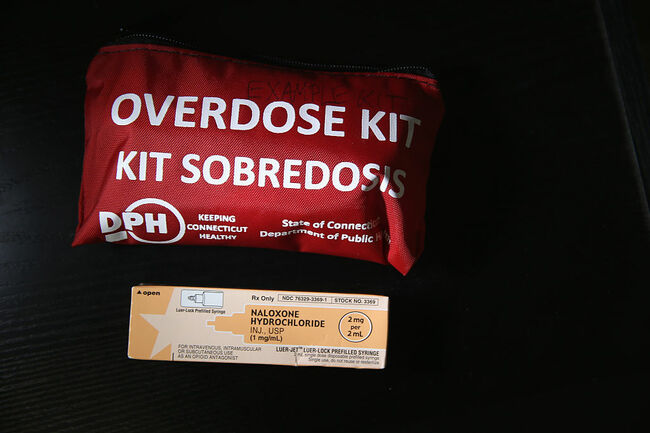 Bill Williams
Want to know more about Bill Williams? Get their official bio, social pages & articles on Oldies 93.5!
Read more